A lightning strike near the White House in Washington, D.C., has left four people critically injured.
The two men and two women were struck near a tree in Lafayette Park near fencing surrounding the White House complex on Thursday evening.
All four have been taken to local hospitals. None have yet been identified and it is not clear whether any knew each other.
Secret Service members and park police gave aide to the victims at the scene, before emergency responders transported the injured to hospital.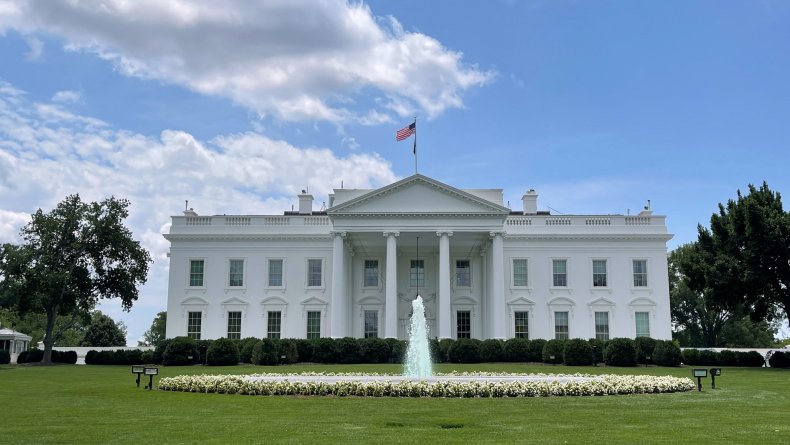 In a video statement posted to Twitter, DC Fire and EMS spokesperson Vito Maggiolo said: "All four were suffering from critical, life-threatening injuries" when help arrived.
"We were able to quickly treat and transport all four patients and they were all taken to area hospitals," the spokesperson said.
Maggiolo recorded the statement inside a vehicle as heavy rain could be seen outside and he cited the "significant storm conditions currently taking place in the area."
The National Weather Service had issued a severe thunderstorm warning for the D.C. area on Thursday between 6:30 p.m. and 7:15 p.m. ET and advised about a threat from winds of up to 60 miles per hour and hail the size of quarters.
DC Fire and EMS received the report about the lightning strike in Lafayette Park at 6:52 p.m.
At a press briefing on Thursday night, Maggiolo said that the strike had occurred in a grove of trees in the park about 100 feet from a statue of former President Andrew Jackson.
"Trees are not safe places," Maggiolo said. "Anybody that goes to seek shelter under a tree, that's a very dangerous place to be."
Authorities said that they are investigating the exact cause of the injuries the four people received.
Lafayette Park is directly across from the White House, which may explain the quick response of the Secret Service. Officials said the presence of the Secret Service and Park Police meant the victims were able to survive.
Newsweek has asked DC Fire and EMS for comment.
According to the National Weather Service, an average of 23 people per year have been killed in lightning strikes since 2012, while nine people have died as a result of lightning strikes so far in 2022, with seven of those dying in July alone.
Storms containing lightning struck the region on Thursday as temperatures reached the mid to high 90s and caused major power outages in Maryland, with Governor Larry Hogan tweeting that there were "more than 50,000 power outages."
"Please stay off the roads in affected areas—especially anywhere tree-clearing crews need to work," the governor advised.


Read More: Lightning Strike Near White House Critically Injures 2 Men, 2 Women