The kiddos are almost out of school which means soon, you'll be needing to find different ways of entertaining them! 
Miami Children's Museum Theatre Troupe is bringing a Kids Dance Party to the Sound Stage Plaza at The Underline on May 9 from 3-3:30 p.m.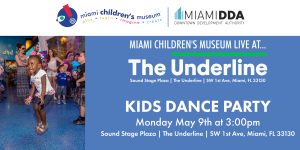 Get the kiddos moving and grooving at this fun afternoon event!
Movement and dance are said to help develop motor skills such as balancing, jumping and walking. 
Miami Children's Live at The Underline
May 9, 2022 @ 3:00 pm-3:30 pm
Miami Children's Live at The Underline
Brickell Backyard Sound Stage Plaza
Brickell Backyard Sound Stage Plaza


Read More: Free Kids Dance Party @ The Underline